Fuel Level Sensor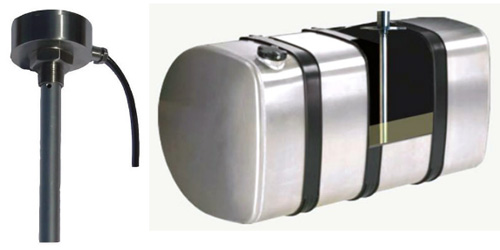 The fuel sensor is mainly used for oil level detection but it can used also for monitoring the fuel level of gasoline, diesel, hydraulic oil and other liquid. It has the advantages of high precision, easy and simple installation. The length of the current output fuel sensor can be adjusted according to the height of the fuel tank.
According to the capacitance working principle, PH606 liquid level sensor measures different kinds of liquid level by utilizing radiofrequency capacitive technology. The output signal will continuously change as the change of liquid level, which has the feature of high measuring accuracy and reliability. Without any elastic and mobile components, the sensor can be installed easily with impact resistance, which can be installed on diversified situation for monitoring the fuel level of gasoline, diesel, hydraulic oil and other liquid precisely.
With the incomparable superiority of using the feature of truncating to non-conducting medium, this will be very convenient for customer's order and installation.
With the structure of integration, it would be good for protecting it from water and damage, while there is built-in monitoring switch on the top cover, the times information of opening top cover would be recorded and read from communication port, which won't be lost when the power is off.
Characteristics
Customer can saw off the fuel sensor to any length according to the height of the tank.
Simple structure, high reliability, little maintenance.
There is some damping time after signal output, which can eliminate the data fluctuation caused by shake and jounce.
Perfect protect for current and voltage overload.
Technical Specifications
Detecting Range : 10-2000mm
Precision : Grade 0.5
Resistance To Pressure Range : -0.1MPa ~ 2MPa
Probe Temperature Tolerance : -30C ~ 100C
Environment Temperature :-20C ~ 70C
Output Signal : 0~5V,RS232,RS485
Power Supply : DC 5 ~ 40V (typical value 24VDC), the voltage shouldn't be less than 8V when the output range is 0~5V
Fixing Mode : thread installation M20x1.5; flange option
Truncation Length : No less than the length of 1/3 of the sensor
Anti-open Function : There is built-in detecting circuit on the top cover, an alarm will be sent out when the top cover opened.
Back to Pithagoras Recommended Devices